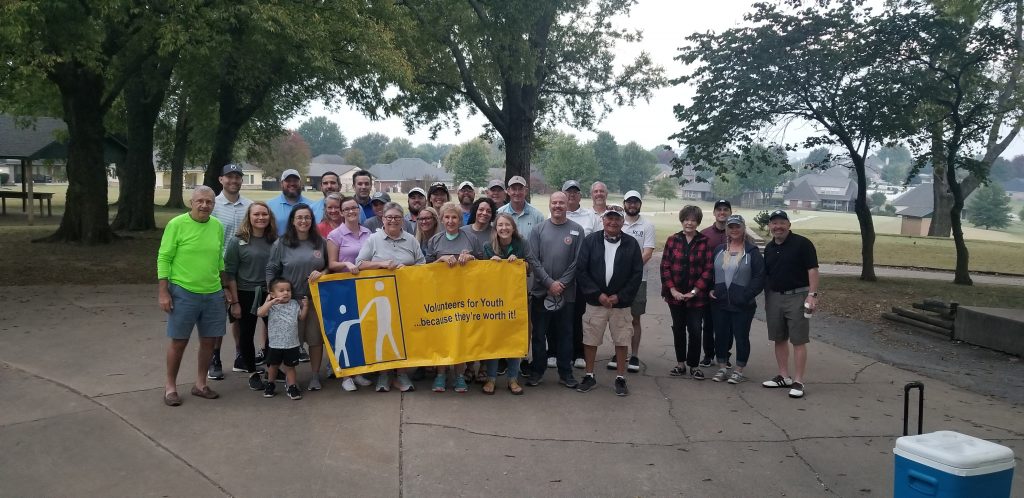 The PAL Program is a site-based mentoring program that matches a Rogers County public school student with a caring adult mentor. The mentor strives to be the student's friend, role model, motivator, and personal advocate. The mentor's purpose is to build self-esteem, confidence, and self-worth in the student while building a friendship. Mentors are good listeners, people who care and people who want to help young people discover their strengths.
Students are typically referred to the PAL Program by their teacher or school counselor. This can be for a variety reasons. A common reason is that the student is seen as someone who could benefit from having a caring adult friend at school.
Mentors meet with their student once a week for about an hour at school during the school day, generally during one of the student's elective classes. Meeting away from school grounds is not allowed in the PAL Program.
Mentors are asked to commit to meeting with their student for one school year. Ideally, both the mentor and mentee decide to continue meeting the following school year and the match evolves into a long-term relationship.
Program participants are surveyed at the conclusion of each school year and there are always comments such as: "I wouldn't trade my mentor for a million dollars. She's unlike anyone I've ever met." Another student wrote, "My mentor is funny, fun to be around, and understands what I am talking about. He is one of my best friends."
"My mentor is someone that I can talk to and someone I trust. He makes me feel special. He helps me get through things," said a Sequoyah Elementary student. An Oologah student wrote, "My mentor has really changed my attitude. I used to hate coming to school, because I didn't feel like anyone noticed me or liked me. Since I've started meeting with my mentor I have enjoyed coming to school and my grades have improved.
Email our PAL Director : Roxanne Bilby
View Governor Mary Fallin's Mentoring PSA:  Here
Volunteers for Youth's BLAST Program is offered after school each regular school day for students in grades 6-8. The City of Claremore makes the Claremore Community Center available exclusively to BLAST students until 6 p.m. The program targets students who would otherwise have no safe alternative after school.  The building offers wi-fi and entertainment features include Wii, Rock Band, Air Hockey, Pool, Ping Pong and Basketball.  The neighboring soccer, baseball, and tennis complexes are often used for outdoor recreation.  Rogers State University Honors students and high school volunteers serve as peer mentors and assist daily with recreation and homework time. BLAST summer camps and quarterly Youth Nights round out the alcohol & drug free opportunities for students offered through Volunteers for Youth in partnership with the City of Claremore.
BLAST Summer Camps
Each summer Volunteers for Youth, in partnership with the City of Claremore, offers summer camp experiences for Rogers County Youth.  Offered every summer with a new and unique theme is BLAST camp.  This camp is offered twice for one week each from 8 a.m. to 5 p.m. for students entering grades 4 to 8.  Enrichment activities, team building, and recreational sports keep the participants busy all week.
To participate in BLAST, contact the Project Director at 918-697-6779 or Email :Susan Jensen
DFC, Volunteers for Youth's federally funded Drug Free Communities (DFC) Support Project, works to reduce substance abuse among our youth, with a particular emphasis on underage drinking and prescription drug misuse. The 10-year project focus is to eliminate factors in the Oologah community that increase the risk, and promote the elements that minimize substance abuse. The youth-serving programs offered by Volunteers for Youth are an ideal setting for putting these protective factors in place and our DFC goals are interwoven throughout each of our projects. We work within the Oologah Community Coalition, a local coalition, on this project. Coalition members represent twelve sectors of the community standing in solidarity with the DFC project as we combat substance abuse issues among youth.
HLP: The TSET Healthy Living Program is a community-based grant. The HLP works to prevent and reduce tobacco use and obesity across Oklahoma. Work is targeted to places where it can make the most impact on our health:
-Businesses
-Cities and governments
-Schools
-Community organizations and institutions (including faith-based, nonprofits, senior centers, child care, food banks and farmers markets)
The TSET Board of Directors awarded 50 community-based grants to organizations like Volunteers for Youth. These organizations serve 63 counties. The five-year grant cycle began July 1, 2015.
As a Healthy Living Program grantee, Volunteers for Youth works on sustainable changes to make our communities healthier. We strive to:
– Prevent and reduce tobacco use
– Increase physical activity
– Improve nutrition
If you have questions or want to partner with us please contact any of our HLP Staff : Amber Brassfield Jody Reiss Sarah Miller
About PFS: The Partnership for Success grant comes from the Cherokee Nation. With these funds, PFS, addresses the significant issues surrounding prescription drugs and the effect on 12-25 year olds in Rogers County. Strategies were identified after a complete community assessment approved by Cherokee Nation and the Healthy Community Partnership. Past successes in reducing problems associated with prescription medications include working with Oklahoma Bureau of Narcotics to place five drug disposal boxes in Rogers County, reducing the chance for non- medical use of narcotics. New Oklahoma legislation allows non-medical personnel, law enforcement, and family members to purchase and administer Naloxone, an overdose reversal medication, through a nasal mist. Our strategies include information and training on Naloxone to reduce the number of accidental overdoses and allow time for emergency medical interventions in these cases. For any questions please contact : Darlene Passmore-Armstrong
Prescription drug abuse is Oklahoma's fastest growing drug problem.
If you or a loved one need help with drug dependence or addiction, in Oklahoma, call 211 for a treatment referral near you.
Signs of prescription drug misuse/abuse:

The most commonly abused prescription drugs are:
Opioids, such as oxycodone (Oxycontin, Roxicodone) and those containing hydrocodone (Vicodin, Lortab, Norco), used to treat pain
Anti-anxiety medications and sedatives, such as alprazolam (Xanax) and diazepam (Valium), and hypnotics, such as zolpidem (Ambien), used to treat anxiety and sleep disorders
Stimulants, such as methylphenidate (Ritalin, Concerta, others), dextroamphetamine and amphetamine (Adderall XR) and dextroamphetamine (Dexedrine), used to treat attention-deficit/hyperactivity disorder (ADHD) and certain sleep disorder.
Opioid overdose – If you suspect an opioid overdose call 911 immediately!

Due to their effect on the part of the brain which regulates breathing, opioids in high doses can cause respiratory depression and death. An opioid overdose can be identified by a combination of three signs and symptoms referred to as the "opioid overdose triad". The symptoms of the triad are:
pinpoint pupils
unconsciousness
respiratory depression.
Combining opioids with alcohol and sedative medication increases the risk of respiratory depression and death, and combinations of opioids, alcohol and sedatives are often are often present in fatal drug overdoses.
Signs and symptoms of prescription drug abuse
Opioid painkillers
Sedatives and anti-anxiety medications
Stimulants
Constipation
Drowsiness
Reduced appetite
Nausea
Confusion
Agitation
Feeling high (euphoria)
Unsteady walking
High body temperature
Slowed breathing rate
Slurred speech
Insomnia
Drowsiness
Poor concentration
High blood pressure
Confusion
Dizziness
Irregular heartbeat
Poor coordination
Problems with memory
Anxiety
Increased pain with higher doses
Slowed breathing
Paranoia
Other signs include:
Stealing, forging or selling prescriptions
Taking higher doses than prescribed
Excessive mood swings or hostility
Increase or decrease in sleep
Poor decision-making
Appearing to be high, unusually energetic or revved up, or sedated
Continually "losing" prescriptions, so more prescriptions must be written
Seeking prescriptions from more than one doctor